The groundbreaking creator collective is led by prolific writers and artists whose bestselling works include Batman, Superman, Spider-Man, The Flash, The Ultimates, Black Lightning and Green Arrow – Jason Fabok, Gary Frank, Bryan Hitch, Geoff Johns, Lamont Magee, Francis Manapul, Brad Meltzer, Peter J. Tomasi, Maytal Zchut. The forward-thinking business model allows its creators to jointly own, run and operate the company and together share in publishing, media, merchandising and beyond, disrupting the status quo.
NEW YORK, October 12, 2023 (Newswire.com) - Ghost Machine, a first-of-its-kind creator-owned and -operated media company officially launched today at New York Comic-Con. Creators co-own all the characters and universes developed for Ghost Machine, sharing in all publishing, media, merchandise, and beyond. The pioneering creator collective is a global best-of-class roster of artists and writers whose award-winning and iconic works include a who's who of comic book legends, such as Batman, Superman, Spider-Man, The Flash, The Ultimates, Black Lightning and Green Arrow: Jason Fabok, Gary Frank, Bryan Hitch, Geoff Johns, Lamont Magee, Francis Manapul, Brad Meltzer, Peter J. Tomasi, and Maytal Zchut. The company plans to announce additional talent in the months ahead, including one major superstar creator. All creators will be exclusive to Ghost Machine for their comics work after completing their already-committed-to projects.
As the recent Hollywood strikes have shown, creatives are disenfranchised with the traditional industry model – creators seek increased empowerment as a natural progression to an ever-changing entertainment landscape. Ghost Machine's enterprising business model is at the forefront of this evolution, with the characters and full company ownership shared by its creators in every way.
Joint statement from Ghost Machine founding creators: "Our ambition for Ghost Machine is to push beyond superheroes, introducing new genres, characters and shared universes, completely co-owned by all the creators involved. We see this as the future of how creatives will work and retain creative control and meaningfully participate in success like never before.
"Our passion is for the magic of graphic storytelling and the emotional resonance of compelling characters. But we are not just a comic book company – we are the first wholly creator-owned and -operated media company of its kind, born out of a desire to create and succeed together."
Ghost Machine's titles will be published through the original champion of creator-owned comics – Image Comics – the industry's third largest comic book publisher behind Marvel and DC, which launched in 1992 when seven of the top comic book creators left Marvel Comics to own their own work and ideas. Now, Ghost Machine drives the industry norms and opportunities even further by having top talent collaborate and build out shared universes that they entirely control together. If Image Comics pushed the original boundaries, Ghost Machine is breaking barriers and creating a new frontier for creators.
Eric Stephenson, Publisher and Chief Creative Officer at Image Comics: "It's been incredible to see how much planning has gone into what the Ghost Machine collaborators are putting together. It's an amazing list of talent, but beyond that, they're giving every aspect of this line a lot of thought, so that it's more than just another series launch; it's a true event. The way they're working together, and working with Image, make this a noteworthy development for us, as well as a must-read comics lineup for anyone looking for something different and new."
A two-issue prequel series, GEIGER: GROUND ZERO by Geoff Johns and Gary Frank, ships in November and December before Ghost Machine's first official release in January 2024 with GHOST MACHINE #1, a 64-page special that will introduce its four shared universes of characters: 1) THE UNNAMED; revealing a mysterious group of genre heroes from across history, featuring characters and titles like GEIGER, JUNKYARD JOE, REDCOAT and FIRST GHOST. A GEIGER series, based on Geoff Johns and Gary Frank's hit comic of the same name, is already in development at Paramount TV with director Justin Simien. 2) ROOK: EXODUS; a sprawling sci-fi epic that takes place in the far future on a world where every aspect of nature is controlled by humanity. 3) The universe of FAMILY ODYSSEYS centering around the time-displaced family THE ROCKETFELLERS and their friends. And 4) An epic HORROR UNIVERSE co-created and illustrated by one of our secret superstar artists to be announced, currently under contract. Following Ghost Machine #1, Ghost Machine's titles will begin shipping in April 2024 with an all-new ongoing GEIGER series, REDCOAT and ROOK: EXODUS.
Ghost Machine will be at booth #3045 at New York Comic-Con with its entire creative team holding signings from 2-3pm ET Thursday, October 12, through Sunday, October 15. Talent will also be signing in the Artist Alley at various times throughout the convention. All booth guests will receive an exclusive GHOST MACHINE #1 ASHCAN with a cover by Gary Frank. The first-ever Ghost Machine panel will take place on Friday, October 13 from 12:15-1:15pm ET, moderated by Victor Dandridge, with attendees receiving an extremely limited GHOST MACHINE #1 ASHCAN featuring an exclusive ROOK: EXODUS Jason Fabok cover. Additional collector editions for sale at the booth will include: GEIGER #1 GLOW-IN-THE-DARK LIMITED EDITION, JUNKYARD JOE #1 BULLETPROOF LIMITED EDITION (silver foil cover) and REDCOAT SPECIAL #1 RED REVOLUTION LIMITED EDITION (red foil cover) for $20 a piece or all three for $60 with an exclusive GEIGER BORON ROD GLOWSTICK and a copy of the limited GHOST MACHINE #1 ASHCAN from the panel.
Ghost Machine homepage: Ghostmachinepro.com
Ghost Machine online store: https://ghostmachinepro.threadless.com
Ghost Machine is also on Instagram, YouTube and Facebook among others @ghostmachinepro
Press kit links:
(contains: NYCC Special Covers, Launch Covers, Spread, NYCC Ashcan Covers, Poster, Creator Bios & Headshots)
Contact Information:
Kat Kleiner
[email protected]
(310) 508-0770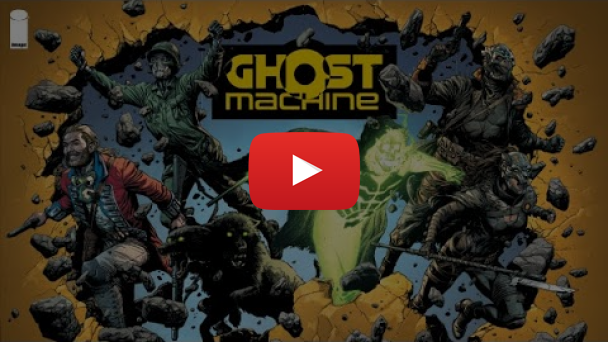 Original Source:
Ghost Machine, First-of-Its-Kind Creator Co-Owned, Cooperative Media Company, Launches at New York Comic-Con