ANN ARBOR, Mich., February 1, 2023 (Newswire.com) - GreenMark Biomedical Inc. "GreenMark" announces its award in the competitive Startup Central Pitch event called The Hub, which the company received on Friday, Jan. 27, 2023 in Boston, Massachusetts. GreenMark's CEO Dr. Steven Bloembergen took part in the event, along with six other CEOs of dental startup ventures with a presentation entitled "Redefining Caries Management: Transforming the dental experience through early detection and noninvasive treatment".
GreenMark captured the winning "Best Startup", with eligibility for a $50,000 investment award. The event, organized by Revere Partners, was judged by professionals with a broad range of expertise in the dental market, and consisted of an oral presentation on innovative products by each company, followed by questions from the judges. After winning, Bloembergen stated, "We are thrilled to have been selected first in this competitive event with other innovation companies. This event allowed us to showcase our system approach to redefining caries management with our novel LumiCare™, LumiKids™ and planned CrystLCare™ products."
Startup Central included GreenMark among ten company participants, and was dedicated to disruptive innovations in dentistry, as part of a three-day exhibit at the Yankee Dental Congress. This meeting was held at the Boston Convention and Exhibition Center on Jan. 26-28, 2023. The Startup Central exhibit and The Hub competitive startup event were sponsored by Revere Partners, the first independent Venture Capital fund exclusively dedicated to oral health. The VC fund identifies opportunities for investors, providing capital for cutting-edge innovations in the oral and oral/systemic health sectors.
"Revere selected the winner based on key factors contributing to startup growth in dentistry, such as: team, marketing opportunity, product, clarity of the presentation, equity and accessibility to patients, and the likelihood of successfully closing their fundraising round," said Dr. Jeremy Krell, Managing Partner for Revere Partners, a general dentist and experienced investor.
"Receiving this award is especially meaningful for us at GreenMark, as we are in the midst of raising our Series A investment round," said Steven Bloembergen, Ph.D., GreenMark's founder, Chairman and CEO. He added, "Since 2016, we've invested in our bioresorbable starch particle platform, to bring affordable, safe and effective products to the dental market, with the goal of improving oral health for all."
About GreenMark Biomedical Inc.
GreenMark is developing a systems-based approach to caries management, with its patented products that involve small sub-micron particles, produced from safe food-grade starch. These make an ideal carrier for medical and dental applications, since enzymes in the human body and saliva degrade starch. Dental caries (tooth decay) is the most prevalent chronic disease in the world, affecting more than 95% of Americans over their lifetimes. Minerals are gradually lost from affected tooth surfaces, and enamel becomes increasingly porous, until eventually a cavity forms. GreenMark is developing methods to identify and better assess the disease in its early stages, monitor progression and to manage it, noninvasively and without anesthesia. The company's "LumiCare™ Caries Detection Rinse" and half-dose "LumiKids™ Caries Detection Rinse" products, to be used by dental professionals as part of the routine dental exam, contain fluorescent-labeled starch particles that target the porous subsurface of caries lesions in enamel, and illuminate them using a dental curing light, thereby aiding in the visualization of caries. The identification at early stages before a cavity forms allows the use of preventive, non-surgical management options, resulting in less discomfort and improved long-term oral health outcomes for patients. GreenMark's team has also demonstrated the ability to load the essential enamel minerals, depleted because of tooth decay, inside the small starch particles, and is now developing treatment products designed to target and restore minerals to the subsurface of teeth. The company intends to launch its "CrystLCare™ Biorestorative, Fluoride-Free" product soon, an Easy-to-Use Dissolvable Dental Strip, packaged in convenient single-use sleeves, for the prevention and control of dental hypersensitivity. After release of its mineral components, the product works by forming hydroxyapatite crystals to block exposed dentin. Contact [email protected], or call 801-899-0710. For more information, visit www.greenmark.bio.
About Revere Partners
Revere Partners is the first venture capital fund exclusively focused on oral health, identifying opportunities for investors and providing capital for cutting-edge innovations in the oral and oral/systemic health sectors. Revere Partners' inaugural fund has a flexible and unique structure with continuously open fundraising that enables startups to connect with unrivaled industry resources and growth opportunities. Founded by Dr. Jeremy Krell and David Arena, Revere Partners fosters strategic partnerships that improve care delivery as well as patient and provider experiences - maximizing value for investors. Revere Partners is committed to inclusive partnerships with underserved businesses in the healthcare sector, including but not limited to, women, minority and LBGTQ+-owned enterprises. To learn more visit www.reverepartnersvc.com or on LinkedIn.
Contact Information:
Steven Bloembergen
Ph.D.
[email protected]
‭(517) 896-3665‬
Related Images
GreenMark\u2122 Logo
GreenMark\u2122 Logo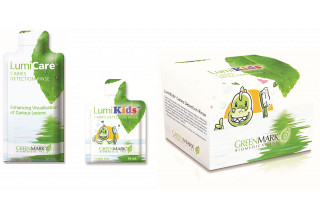 LumiCare\u2122 and LumiKids\u2122 Packaging
LumiCare\u2122 and LumiKids\u2122 Packaging
Original Source:
GreenMark Biomedical Wins Competitive Startup Pitch Event at 2023 Yankee Dental Meeting